At Nylex.Net, we are proud of what we have accomplished for businesses and government organizations all across California, and we wanted to share some of our impressive work with you.
A Nylex client since 1999, this non-profit organization has offices in five cities where counselors and advocates provide medical assistance and services to clients. Their headquarters in southern Mendocino County employs nearly 200 individuals including top level management, while their other locations employ between 150 individuals and 20 individuals each.
The customer desired to cut down on travel between sites, improve communication, and maintain integrity of information and documentation across the five locations.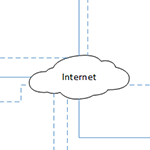 A client since 2005, this sixty year old engineering firm has three offices spread across Northern California. Their northernmost location which serves as their headquarters employs around sixty individuals, with twenty employees in their second location and a small staff in their southernmost office.
The firm desired to improve its computer operations to better serve its customers and share an ever-increasing amount of large CAD files between their growing offices while keeping costs low and improving communication. Their previous email system was also a large concern as it suffered from frequent outages, created delays in email delivery between the offices, and experienced complications with email service on mobile devices.
A small city government in northern California employs over 500 employees and uses an assortment of technologies to provide public services, manage public infrastructure, and store and secure public and private information.
The agency needed to connect a myriad of buildings to provide phone and data access to its employees including public safety and law enforcement agencies. The organization was also required to follow strict data security standards and practices to store, share, and transmit information pertaining to law enforcement agencies.
Other Notable Projects
Construction Company
We consolidated three different networks and data centers into a single data center at one location. We installed site-to-site connections using AT&T fiber, installed and now manage a server, email system, VOIP phone system, centralize wifi access, monitor backup, and provided day to day support for I.T. operations. Client since 1999.
Utility Company
We configured, installed, and now manage all I.T. systems including credit card access systems and video surveillance at all individual locations and offices. The company has no dedicated I.T. staff and Nylex provides all I.T. support. Client since 2005
Accounting Firm
We configured, installed, and now manage all I.T. systems at their central location including desktops and servers. The accounting firm has no dedicated I.T. staff and Nylex provides all I.T. support. Client since 1998.